HOME / TESTIMONIALS / WEDDING MENU / DINNER MENU / B.B.Q. MENU / BUFFET MENU / HOR D'OEUVRES MENU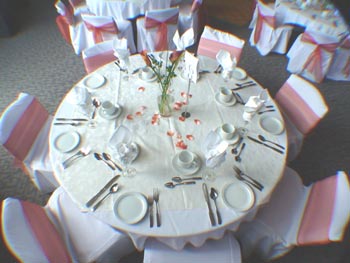 DINNER MENU
Choose two courses from the categories listed on this page.
Meals are priced according to the cost of the Entree.
APPETIZERS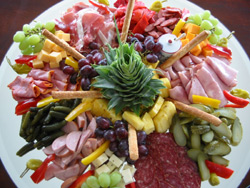 Proscuitto and Melon *
Antipasto *
(Proscuitto, Genoa Salami, Olive Assortment,
Mortadella, Provalone, Marinated Mushrooms
and Artichoke Hearts)
Baby Shrimp Cocktail *
SOUPS
Stracciatella
Cream of Mushroom
Cream of Tomato
Consomme with Sherry
Cream of Broccoli with Orange Zest
Minestrone
Potato Leek
SALADS
House Salad
Caesar Salad
Boston Lettuce Mimosa
(topped with Julienne of Beets, Scallions
and Chopped Egg)
PASTA
Fettucini
Penne
Tortellini
(above served with choice of Alfredo, Marinara or Bolognaise
Sauce)
ENTREES

Choose one entrée from the following list.
Beef
Tender Roast Beef au Jus
Roast Prime Rib au Jus
Roast New York Strip Loin (with Madeira Sauce)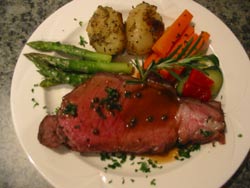 Chicken
Boneless Breast of Chicken
(with Peppercorn or Mushroom Sauce)
Chicken Kiev
Chicken Cordon Bleu
Miscellaneous
Boneless Cornish Hen (stuffed with Wild Rice)
Veal Marsala
Rosemary Roasted Pork Loin
(with Mushroom or Madeira Sauce)
Baked Lemon Dill Salmon Fillet
Combo Plates
Tender Roast Prime Rib au Jus & Lemon Dill Salmon
Tender Roast Prime Rib au Jus & Grilled Boneless Chicken Breast
Grilled Boneless Chicken Breast & Lemon Dill Salmon
Above Entrees served with your choice of potato or rice
and two vegetables.
Please call for a quote as prices are subject to number of guests and menu choices
.
D & T CLASSIC CATERING
Tel. 1-888-335-7471 or 905-563-3055 Fax: 905-563-3080
E-mail: dtclassiccatering@gmail.com